Priest River Cold Water Augmentation Proposal
Priest River in Idaho is the only outlet for Priest Lake and Upper Priest Lake. Priest Lake Is Idaho's Crown Jewel. It is 19 miles long and connects to Upper Priest Lake through a 2.5-mile long thorofare. Upper Priest Lake is 13.5 miles from the Canadian Border. Priest Lake is fed by 13 streams and from Upper Priest Lake. Total river discharge on September 11, 2021 was approximately 63 cfs., the lowest of the year. At that same time discharge at the mouth of Priest River was significantly more, approximately 164 cfs, the additional flows being supplied by other tributaries.
The Priest Lake Outlet Dam, which was constructed in 1950, is owned and managed by Idaho Department of Water Resources (IDWR).
This is a project that plans to take cold water, from the depths of Priest Lake, through a partially buried, 5 ft. diameter, 7,500-8,000 ft. (or longer) pipe, bypassing the waters natural flow patterns and volumes of the Outlet Bay/Channel, to cool the 40 plus miles of Priest River. The Idaho Department of Fish and Game (IDFG) believes this ill-conceived project will cool the river enough to develop what they call a "high value fishery," a fishery that they feel will draw more "anglers visits" to Priest River, ultimately benefiting the local economy.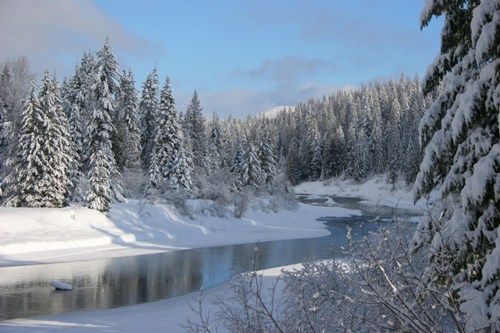 At the Priest Lake Cabin Owners' Association's (PLCOA) Annual Meeting in August 2021, a resolution was unanimously passed, with 125 in attendance, to oppose this project.
Priest Lake, Upper Priest Lake, Outlet Bay, Lamb Creek and Priest River together are one of nature's unique places in the United States. We want to keep it that way.
There are other better options available for cooling the river that don't put the health of the lake at risk and negatively impact stakeholder property values.